GotIt! expert portal
workspace design for study experts
Background
GotIt! Expert portal is a web portal to connect a study expert with a student to help with homework problems. The workspace is where the study expert can chat with the student to guide them through the problem.
Existing workspace

original workflow
The workspace requires study experts to send content as chat messages following the teaching format - concept, step-by-step explanation, final answer and optional followup discussion, while engaging with students. Study experts should deliver content fast and accurately.
heuristic evalution
messy UI
expression editor blocks the chat view
study experts are required to finish all the steps before sending to the student which is very time consuming
problem signals
continuous low retention rate from the mobile app for students
chat sample review shows experts do not engage students
expert working session review shows long waiting time for students
expert performance data exhibits low ratings for experts
problems to solve
experts need to send real content faster
experts can but won't engage much with students
students don't where the expert is at during the problem solving
Design Challenge
Design a workspace to allow experts to send smaller pieces of content more frequently. It should enable experts to provide partial step-by-step explanations in order to decrease time intervals between expert and student communication and increase the perception of "speed".
Expected results
decrease in time between expert communications to student, specifically gap between concept and explanation
increase in retention for certain student user group
USER STORY
As an expert, i want to be able to respond to students faster, so that students know I'm working on their problem.
ideas
add a "slicer" to the tinymce editor to enable expert sending slices of content (tinymce editor is a tool that the product uses to display math & science expressions correctly)
integrate math & science editors into the workspace instead of using a popup
enable edit-ability for sent chat messages
polish chat display to reduce experts scrolling back and forth
design reference:
Slack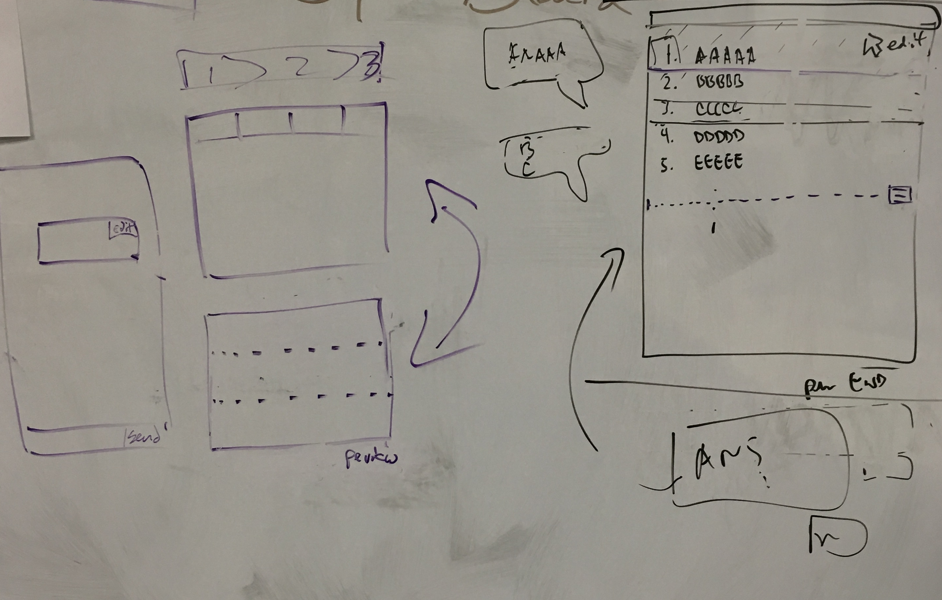 slicer interaction whiteboard & discussion with PM
proposed workspace flow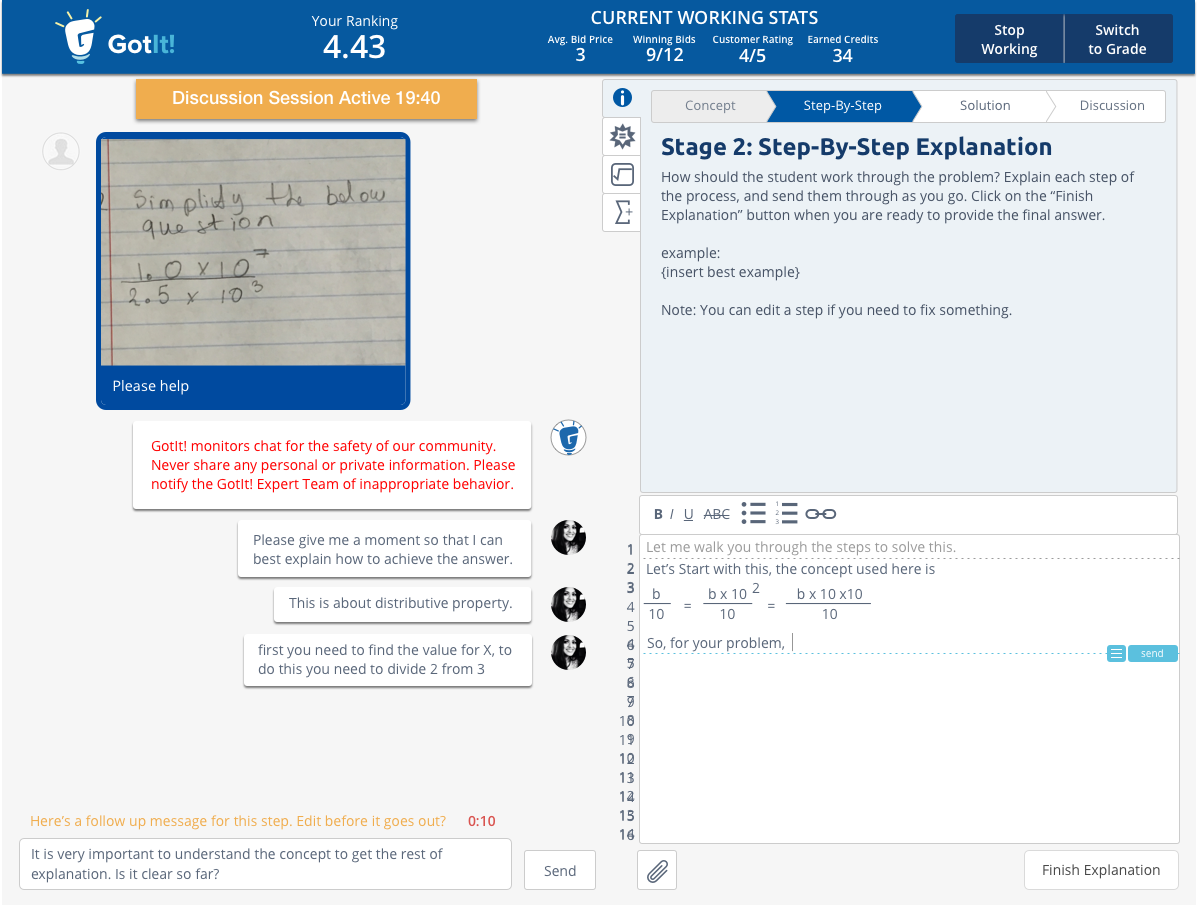 proposed step-by-step explanation workspace
Outcome
The design goal was achieved, reducing the first response time with real content by 90 seconds for adopters
Other Observations
experts take longer to finish the whole response which leads to poor student satisfaction
majority of the experts don't send smaller pieces of content
problem definition
The nature of more interaction in chat leads to a longer session time. The improved workspace provides experts the flexibility they need, but it doesn't provide enough incentive for experts to engage more nor send content faster.
New Design Challenge
Design a structured workspace to incentivize experts to engage students on followup questions when working on a homework problem
Desired results
improve expert quality metrics
increase student satisfaction
research
reference: Slack. banking customer service. traditional call center.
user journey mapping discovery: tool efficiency and time pressure against the structured answer format, especially for step by step explanation
ideas
a single chat/working area
a fixed location for the problem photo
incentive of the math & science editing tools availability to push experts through different stages of answering
combine explanation and final answer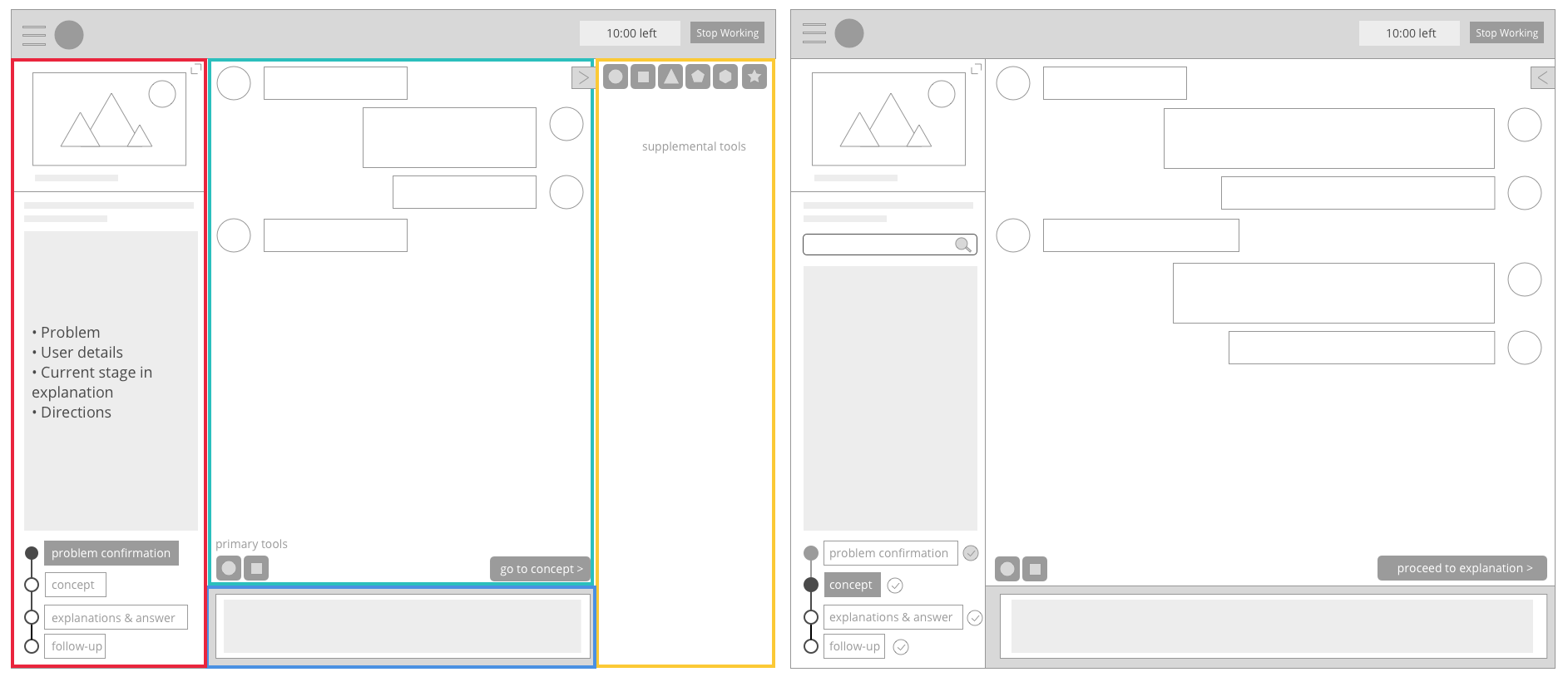 combined workspace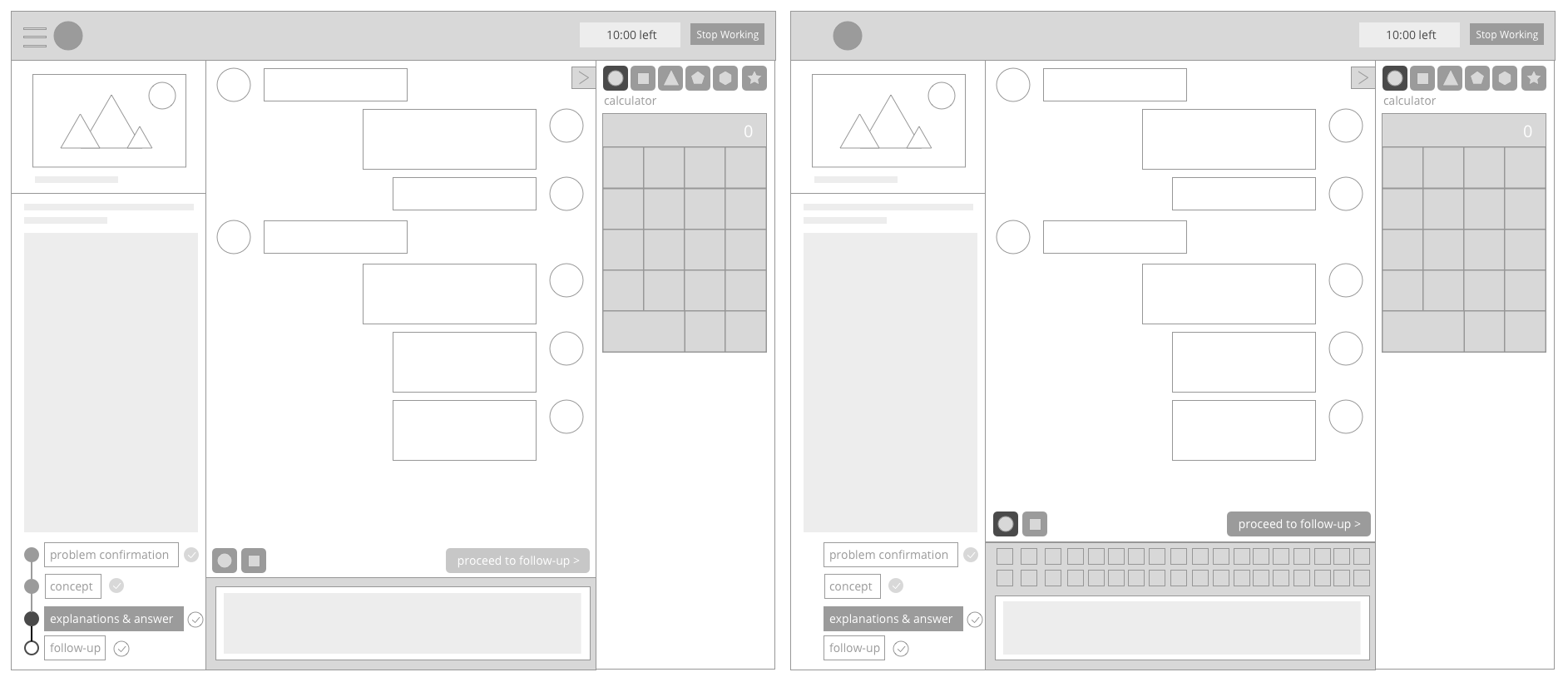 combined workspace with 1 chat input box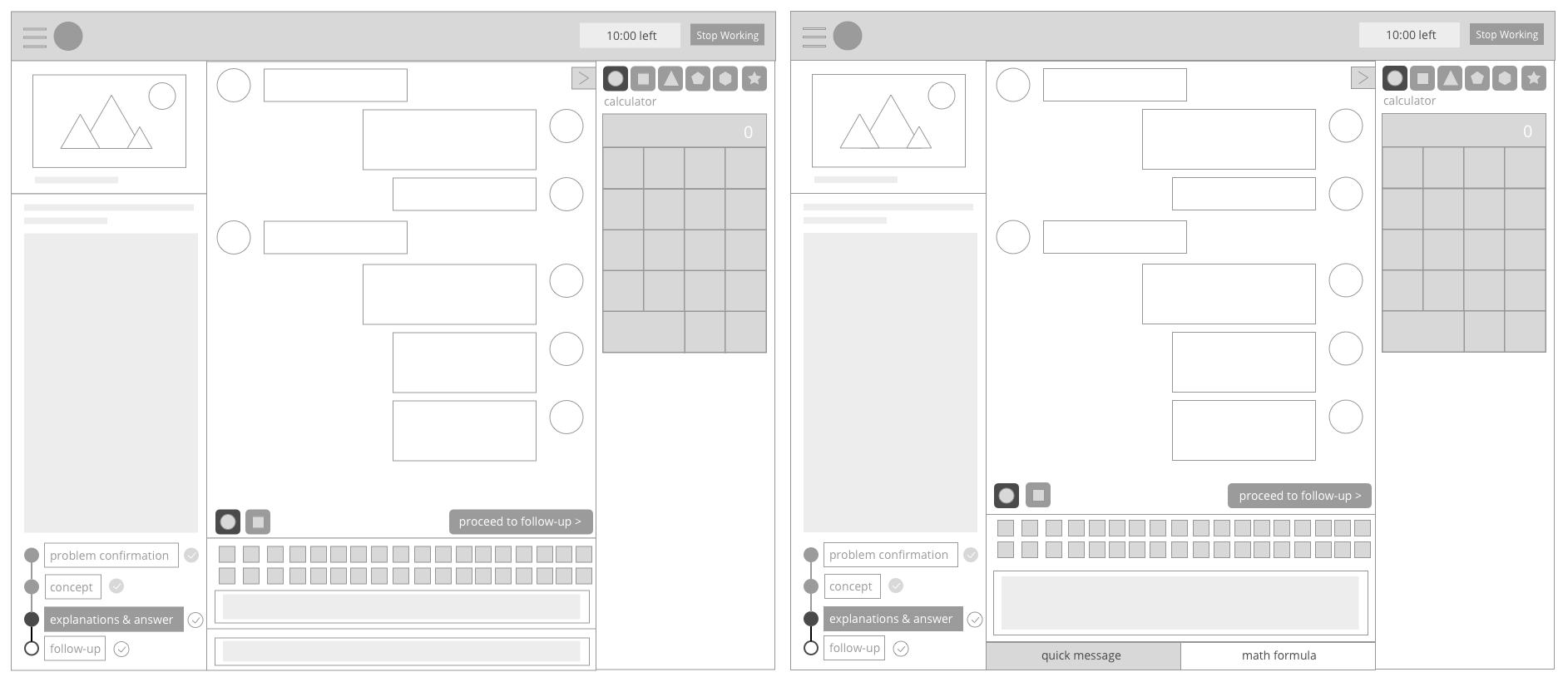 combined workspace with 2 chat input boxes
hypothesis
One single chat box would force a workaround and add mental load for users to decide how they want to respond
2 input boxes might lead to users ignoring incoming questions while keep composing big chunk of content before sending.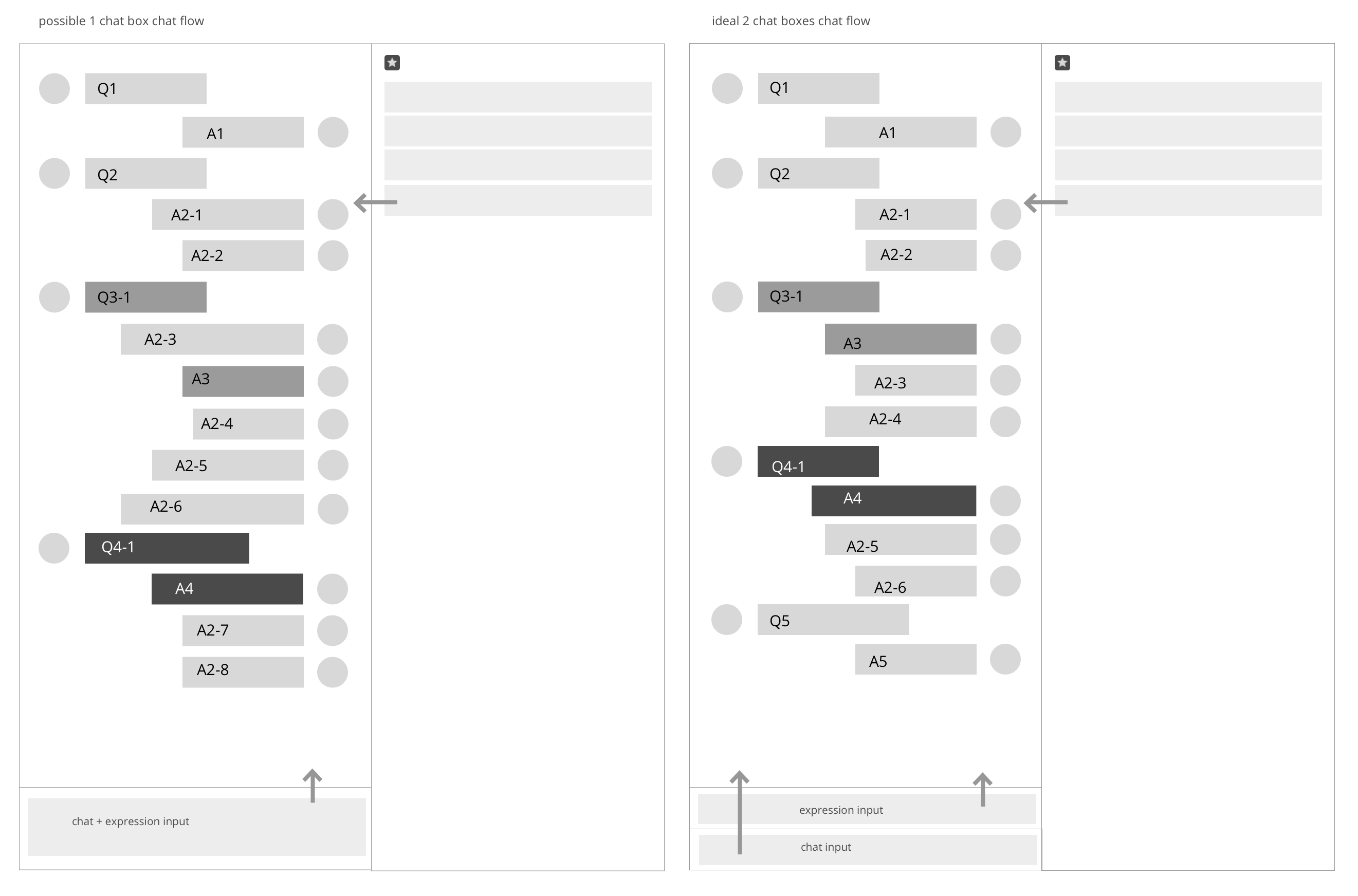 proposed chat options showing 1 hybrid input box or 2 input boxes
usability testing
designed an internal test using google hangout and existing workspace to imitate the proposed workspace options
test insights
study experts with different problem solving styles feel comfortable use one input style over the other
study experts either intentionally write different content separately into expression box & normal english chat box, or just input randomly
study experts either ignore the incoming messages from time to time, or try to respond as soon as possible
testers all agreed that the more interaction, the longer the session takes, and engagement might affect solution accuracy
study experts either prefer the 1 input box without shifting around, or prefer strictly use 2 boxes for different purposes
product direction
Conduct more usability testing to gather more data and establish a baseline for expert performance metrics.