Plexchat App
Community For Mobile Gamers
Background
Plexchat app is a cross-platform communication application for large communities who play mobile games. The mission is to help strangers online start meaning conversations with ease. With the goal in mind, the app focuses on moderation and unique game-specific embedded tools that cater the needs of community members to bond and grow.
Work
I have the opportunity to work with engineering and community team on various features and initiatives, also to advocate for better design practice and systematic design approach. Some of the projects I lead are such as,
Initial Launch
When I joined, I immediately worked with the contract agency to establish a solid brand guide and basic UI kit for further design and development. The mobile app released at the end of 2016 along with a brand new website I designed.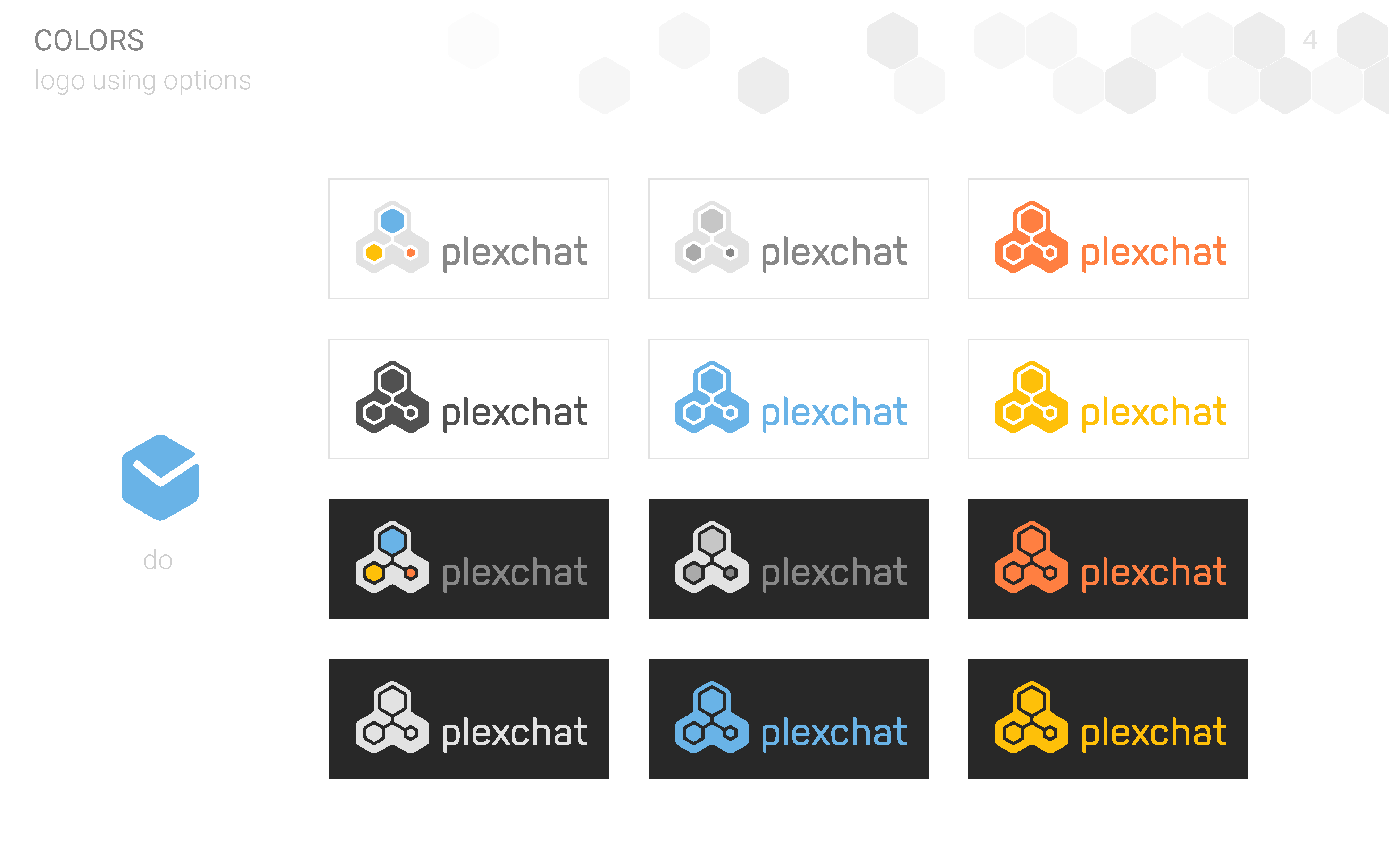 brand guideline logo use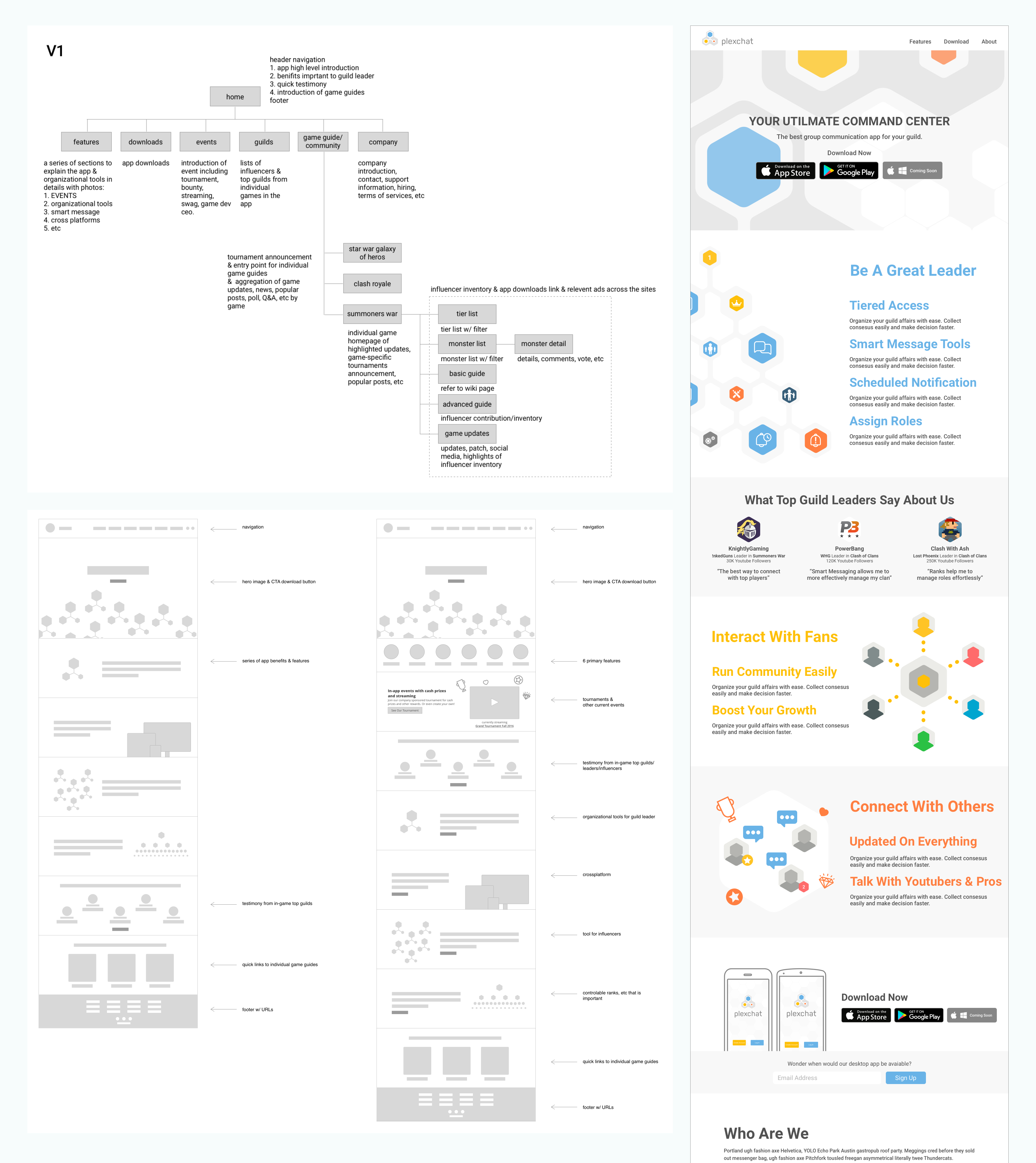 Plexchat.com V1
Voice Call
As one of the parity features for Plexchat compared to other chat applications in the market, it has its own challenges. Plexchat has a much more robust moderation system, in order to manage large communities with thousands of members at the same time, it requires easy moderation during a voice call on top of an existing chatroom.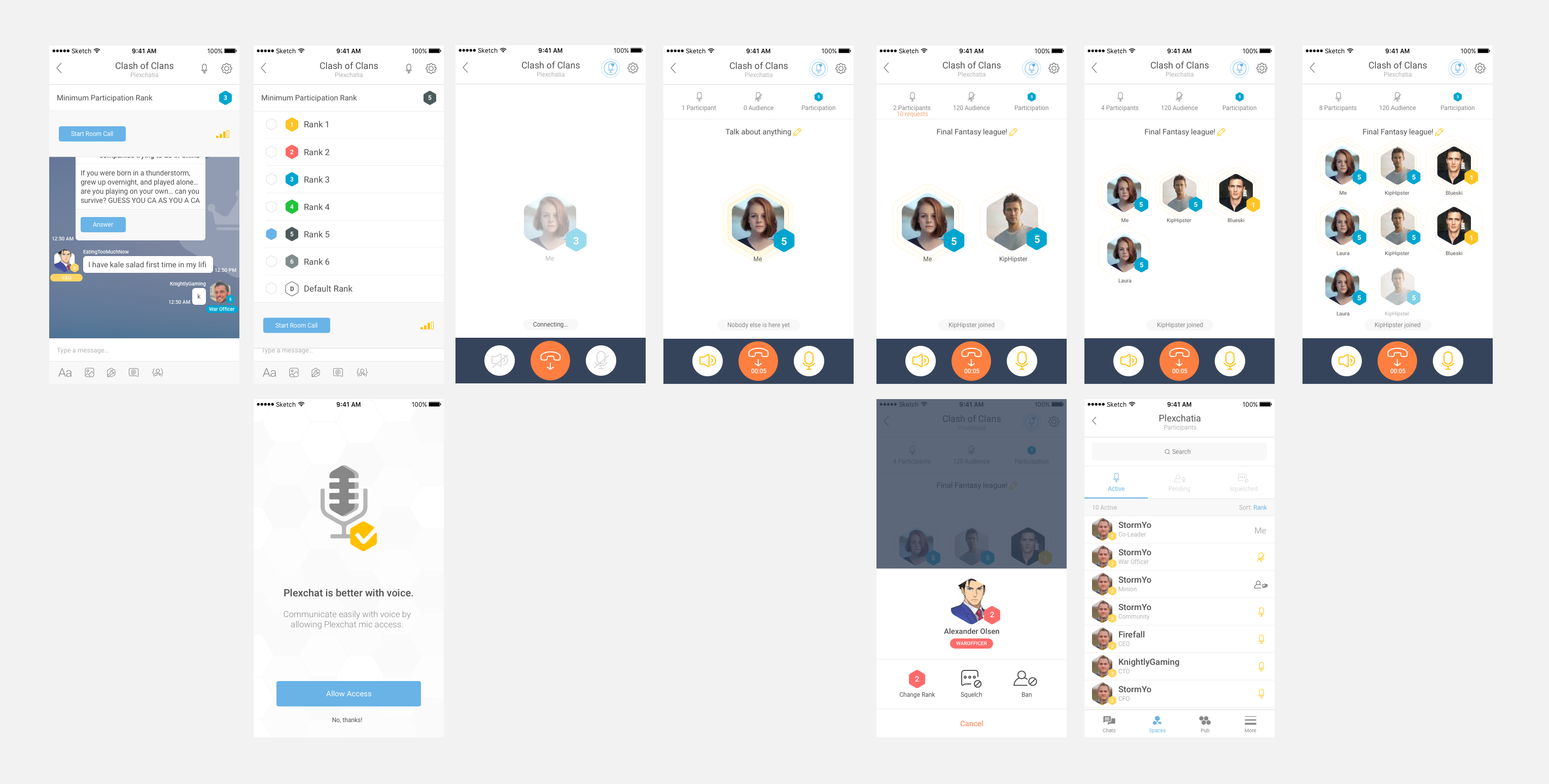 voice call initiation
voice call prototype
Event Room
The feature is a room type to support the on-going community-oriented efforts inside of the app, which including several weekly events hosted by Plexchat community managers with external youtube/twitch streamers. As the community managers told members from the app to view stream on youtube/twitch, it got really difficult to extend the conversation back into the app, which causes significant frictions for in-app engagement.

Problem:

in-app events engagement lost once members went to 3rd-party streaming platform
events got really hard to manage as they grows in scale (were only ran by company staff/contracted staff)
event hosts (usually community managers/youtube or twitch streamers) couldn't effectively run prized events (which was the very common event types that attracts members) due to the tedious existing process by messaging in the app
members had been complaining of missing events due to not able to know/find events in advance
members didn't know where the event was held at
Why was it a problem:
Streaming events via youtube/twitch influencers were the main strategy for user growth and engagement, and the existing/old in-app chat didn't support the specific use case of the event operations, from event creation, organization, control signups, to raffle prize, announce prize winner, etc. It created causes significant frictions for in-app engagement, and made it hard for the major traffic driver to scale.

Solutions:
Based on the existing navigation, create a new type of event chatroom for admins to manage and surface relevant information to members.

Research:
I had long conversations with several of our in-house community managers and youtube/twitch influencers to understand how they were using our app to run events, where were the main pain points, what were their needs and wants. I also interviewed our app users who participated in events to get the context of the use of app for event participation, and what could assist them better to have better experience with those events in the app.

Design ideas:

change how members view event information as the events sign up open, start, progress, and finish
admin moderats participants
admin controls the event progress
admin can edit information on-the-go
admin can post signups only notification
Low-fidelity mocks:

event room creation

manage event flow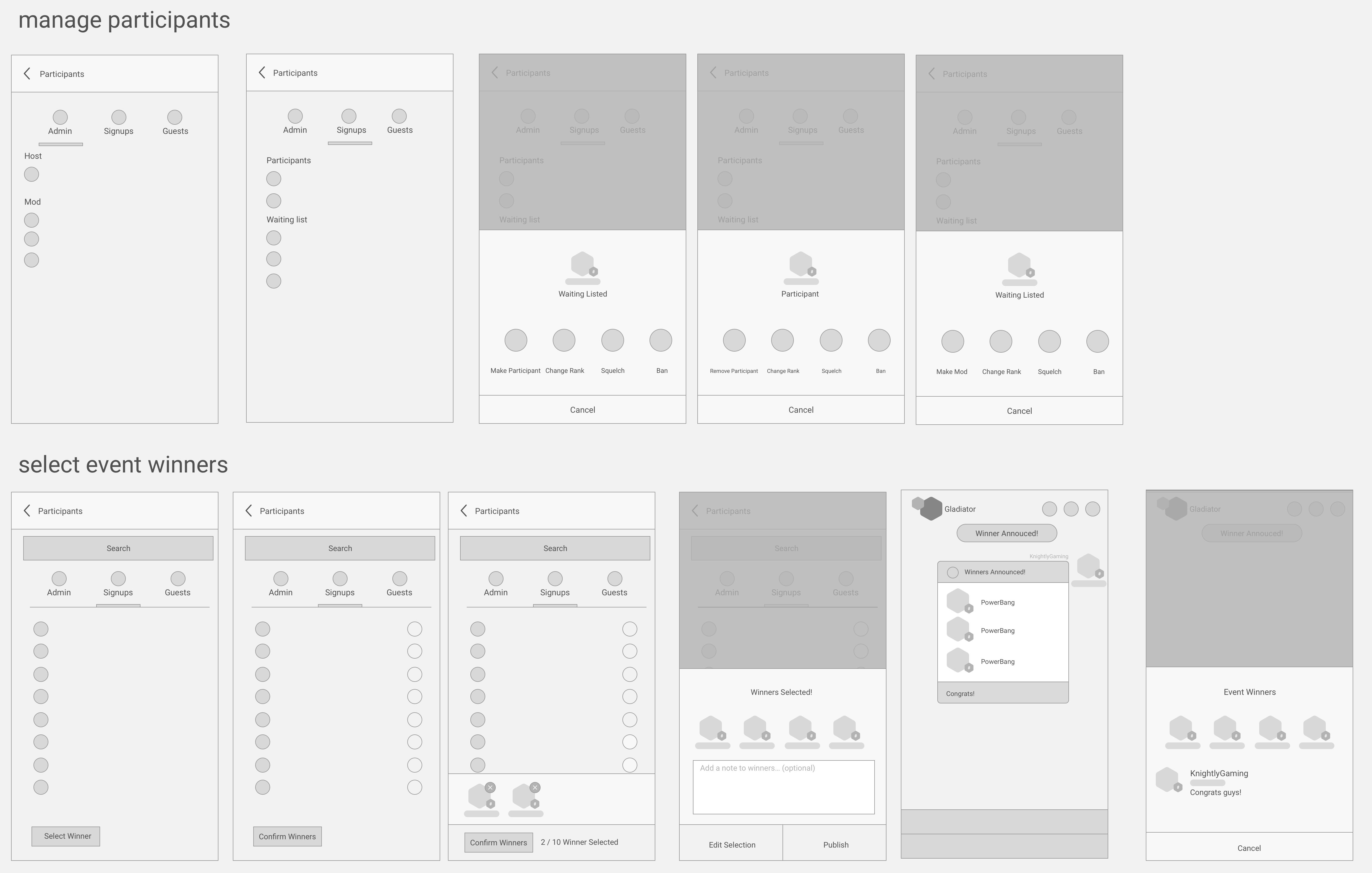 manage participants
High-fidelity mocks: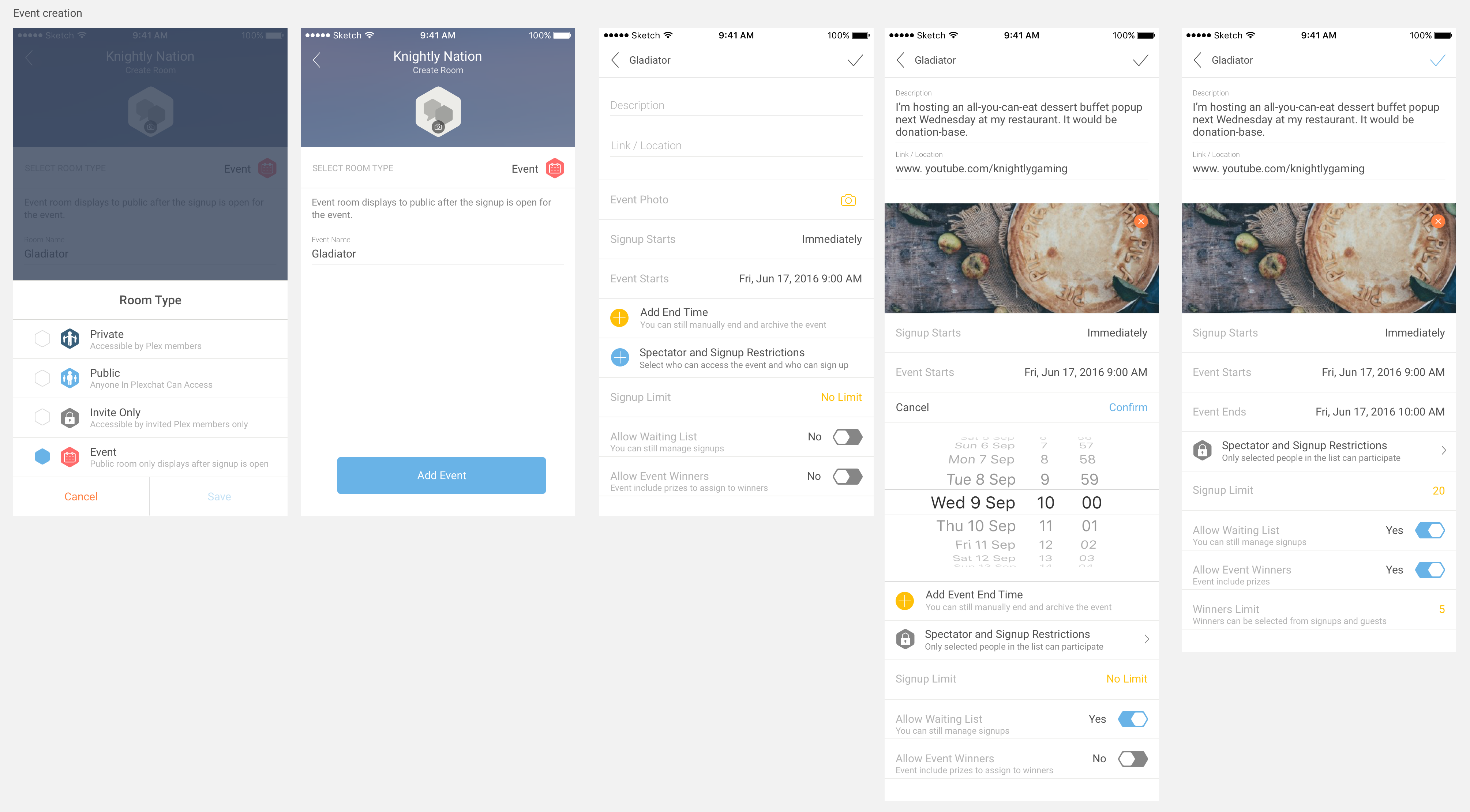 admin event room creation

admin sets signup restrictions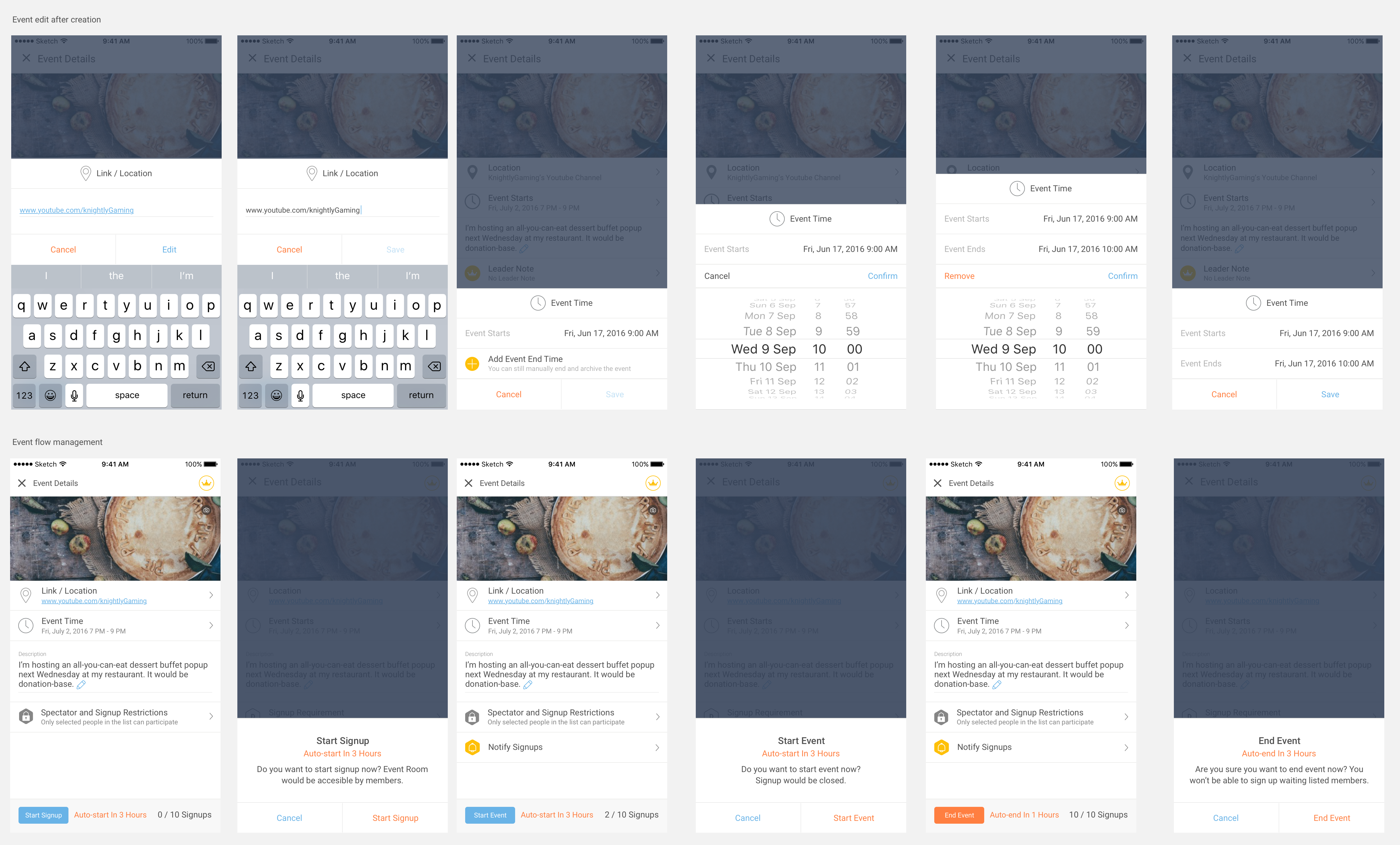 admin manages events flow

admin manages event raffle

participants view
I kept working on event calendar design, for the future scope of how to make it easy for members of any community to discover and participant in events.

event calendar
Design Overhaul
After collecting 6 months of user feedback, we felt the product direction needed to update, especially on how to effectively facilitate conversations for gamers, as well as expanding how they explore more topics they are interested in.

The product decided to emphasize on putting conversations front and center with easy navigation supporting rich-media embedded widgets to surface user information, and enabling users to post structured content to communicate.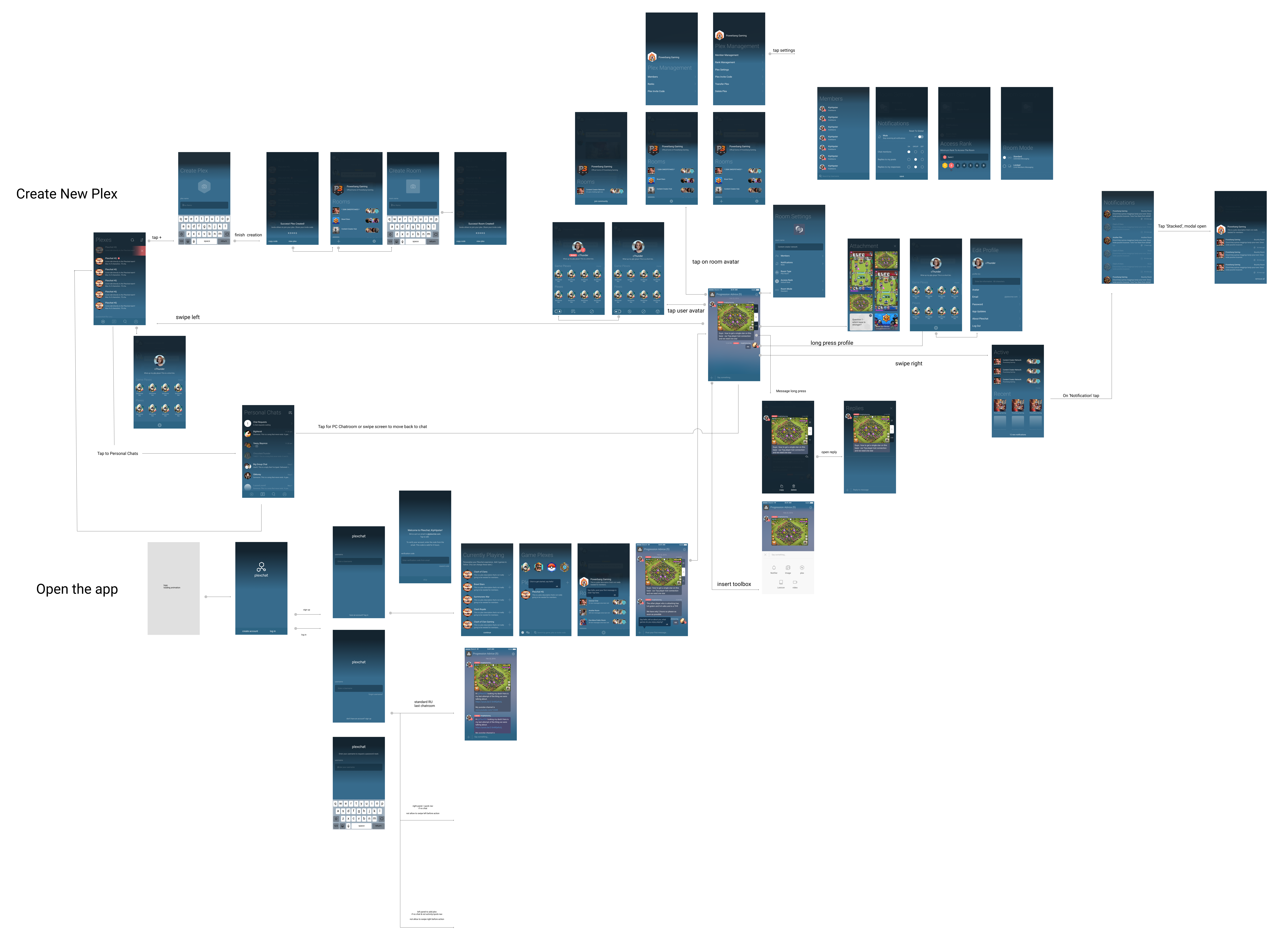 mobile app information architecture
Usability Testing
I also lead the usability testing for the re-design launch - I worked with CEO to identify the goals for the user testing, proposed and conducted the entire usability test with existing users. During the process, some major issues were surfaced, such as user education and navigation, and we were able to work on design solutions to significantly improve user on-boarding.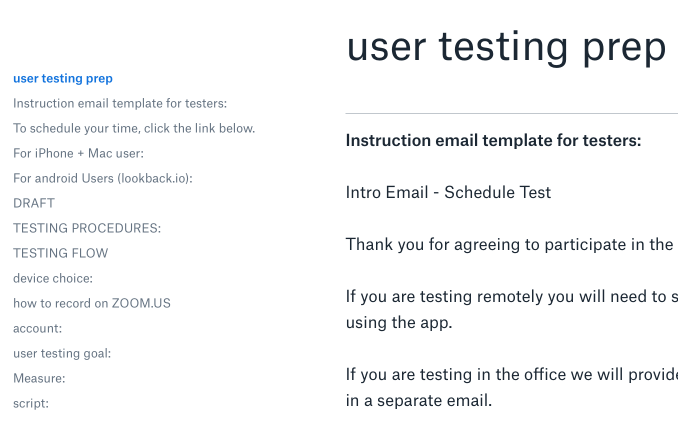 user testing script snippet from Dropbox Paper
Attachment
The attachment is one of the crucial components around the re-design - by allowing users to post multiple multi-media content at once. The flexibility is really important as it suits the need of different users. The communities in Plexchat operate like communities inside of a mobile game - there are leaders, moderators and regular members. It also reflects the mobile gaming ecosystem of streamers, audience and e-sports.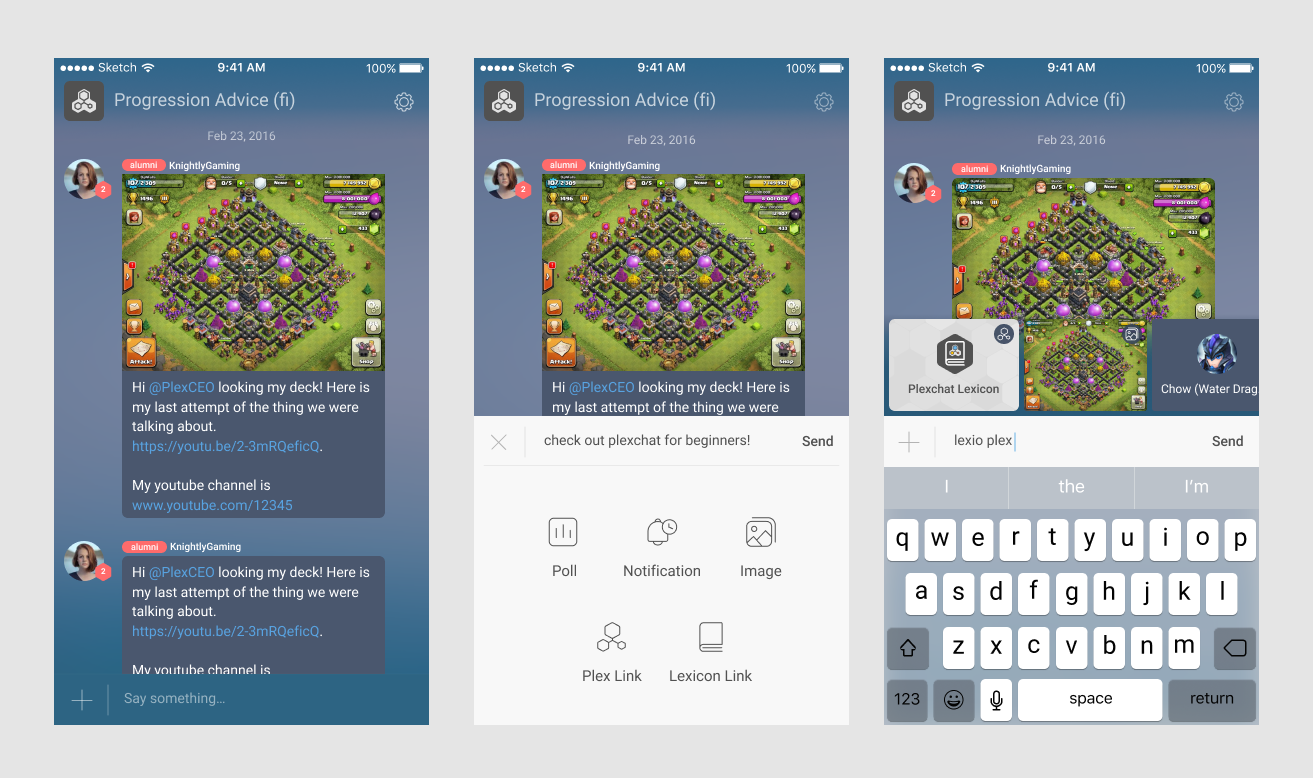 add attachments to a message

message UI options
attachement prototype
Embed Tools
One major differentiator Plexchat has is the embed - like widgets inside of the chat app to allow user post rich content, instead of a boring URL, so we can capture the audience for the specific game, and make the app more sticky to use.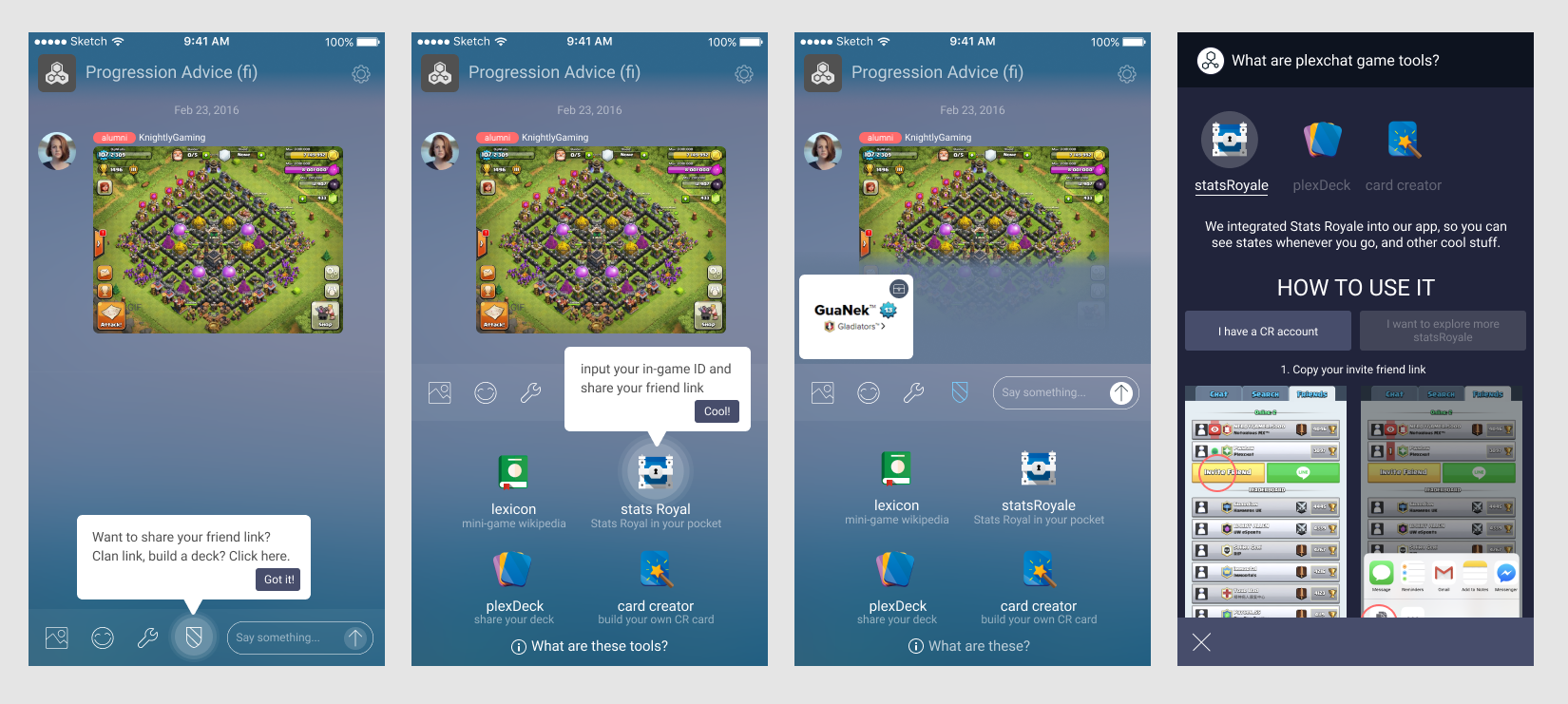 user education on embeds


deck assist - gamers ask for a better deck recommendation and received suggestions
Design Pattern Library & Style Guide
After the intense release schedule of mobile app re-design, embed tools, and on-going iterations and other improvement, the design came to a point of examining the design consistency. We realized that we need to look into establishing a concrete style guide and UI kit again. It was really crucial as we expand quickly into multiple different product offering across different platforms, plus expressing a centralized tone and voice for all of our communication channels.

After discussing with stakeholders, I examined the existing design, and complied the design library as the base to standardize UI and design elements, and expand it to the entire company. It not only helped use to discover current design inconsistency, it also help use to make sure further design work evolve in a much more systematic way.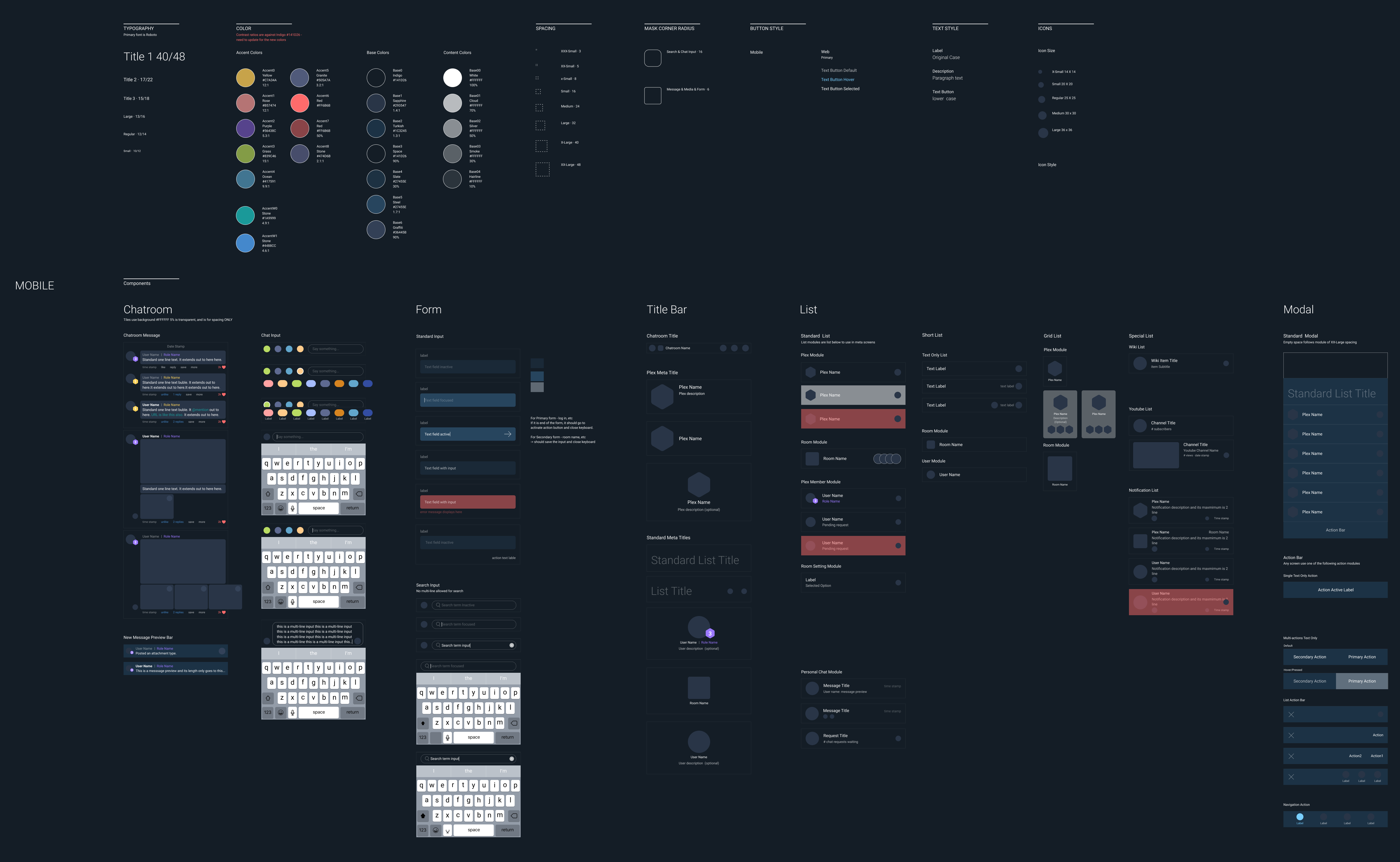 pattern library & style guide snippet